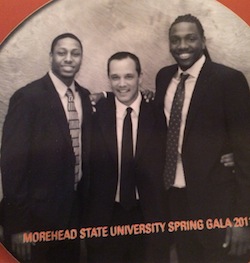 August 20, 2010  I was named Associate Head Coach at Morehead State University for Head Coach Donnie Tyndall.
I had the opportunity to meet the team and we began workouts. I coached the post players including Kenneth Faried. He played extremely hard and  great effort was his greatest skill. He worked hard on developing his post and perimeter game. He was a very good leader but we struggled as a team 12-8 the first 20 games. We were on the road to play Ball State and we came together as a team after an intense halftime meeting. The players finally bought in and we  went on to win 13 of our next 14 games.
What Kenneth accomplished in his career was exceptional. He was even a better person, treated my 3 children, Collin 10 and twin girls Sydney and Hannah 8 with great Love.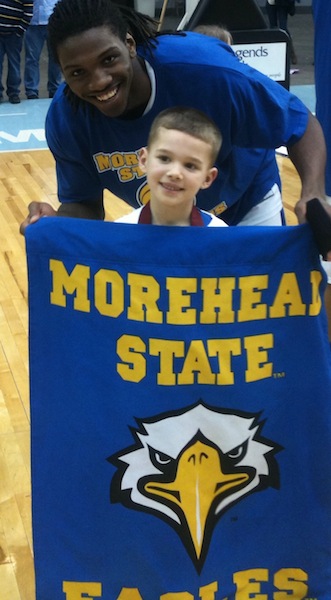 Kenneth, who earned a spot on the FIBA World Cup All-Tournament Team, averaged 12.4 points and 7.8 rebounds while shooting 64 percent from the field.  The United States has won back-to-back World Cup titles and four consecutive gold medals in senior international competition.
Faried, who stands 6-foot-8 and weighs 228 pounds, has recorded 2,490 points and 1,770 rebounds in 206 National Basketball Association games over the past three seasons.  He averaged 13.7 points and 8.6 boards while shooting 55 percent from the field in 2013-14.Faried was taken 22nd overall in the 2011 NBA Draft.  He earned a spot on the NBA's All-Rookie First Team in 2012.  The Newark, N.J., native was tabbed to the NBA's Rising Stars Challenge in 2013 when he also picked up the J. Walter Kennedy Citizenship Award.
Faried helped MSU to a pair of NCAA Tournament appearances (2009, 2011) and was named the Ohio Valley Conference's Male Athlete of the Year as a senior.  He was a two-time OVC Basketball Player of the Year (2010-11) and three-time Defensive Player of the Year (2009-11).
Faried finished his college career with 1,673 rebounds.  The total set the NCAA's modern-era record, which was previously held by 14-time NBA All-Star Tim Duncan.
I have unbelievable Gratitude to be a part of Kenneth Faried's development as a player but he was a great leader with a great heart that showed Love to a lot of people. He cared and he expressed that every day we were with him.